The sun is about to set, your day of hiking trails in the Cockscomb Basin Preserve (aka the Jaguar Preserve) is drawing to an end and you are resting your tired feet on a bench at the Cockscomb ranger station. Suddenly, a roar crescendos from amidst the jungle flora. Is it the reclusive jaguar finally making an appearance, if only audibly? It causes you to tremble a bit, wondering if a big cat is approaching your location. You hope it is not on the prowl and not too unabashed.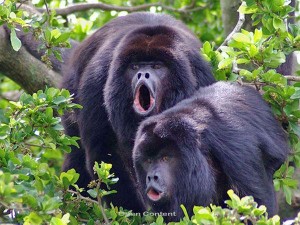 But soon a chorus of roars shatters the air. It becomes evident this is not a cat, but a group of animals that are roaring from different corners of the forest. You ask the Cockscomb ranger what is making such a noise and the ranger responds, "howlers," referring to what is the biggest primate in Central America, the black howler monkey, dubbed "baboons" in the Creole dialect. The loudest animal alive, its howl can travel up to three miles through a Belize jungle.
The howler monkey is usually among a handful of other howlers when it starts roaring. This induces groups of howlers in other corners of the tropical rainforest to also howl, which is basically a statement marking their turf. The howlers are vegetarians, coveting mostly young leaves high in the trees. The howls are meant to declare a particular stand of trees as theirs and they can gain an idea of where their nearest competitors for habitat are when other monkeys howl.
The largest monkey in the rainforests of Latin America, the black howler can grow up to four feet tall at maturity and can live up to 20 years of age. They range all the way from Central America to southern Brazil and northern Argentina. Their mighty aperture comes from oversized necks and jaws.
Their territory ranges from 3 to 25 acres, therefore ample habitat is required and usurpation of its habitat by logging or other development is its main threat to existence, along with mosquito-borne illnesses.
The Baboon Sanctuary along the Belize River has been reintroducing howlers to other areas of Belize for several years. Landowners and conservation groups have teamed to create the 20-square-mile reserve at Bermudian Landing on the river.
Besides the sanctuary, other likely places to see the black howler include heavily forested Mayan ruin sites such as Lamanai in central Belize or Tikal in Guatemala. They can also be found in almost any other forest preserve in Belize. The Belize Zoo is an excellent place to see and learn more about the monkeys.
And, don't think for a second that none are around because you are not hearing their howls. Nuts, fruits or urine raining from high above in the canopy often indicates that the pesky howler is in your zone.
Sources:
http://www.belizezoo.org/mammals/black-howler-monkey.html