Though by no means the tourist season, September serves a dynamic duo of inviting and significant celebrations for tourist and resident alike.
Kicking off the fanfare is the Battle of St. George's Caye Day on September 10. The nation and its friends pay homage to what effectively expelled the Spanish from claiming any sovereignty over Belize, which at the time was occupied by the British for timber extraction and its transport to market. The Brits and Spaniards were in the throes of dispute over which of the two nations rightly claimed Belize as theirs.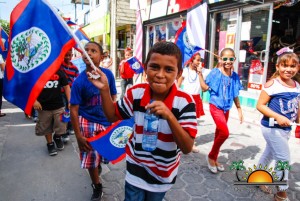 The battle, which actually started September 3, 1798, involved an invading force from Mexico intent on affirming its claim to Belize for Spain. To counter the invasion, British naval forces, a small force of resident woodcutters called 'Baymen' and a cadre of black slaves experienced in warfare joined to thwart the invaders at St. George's Caye, off the coast of Belize.
However, September 10 marks the pivotal point of the battle, when the joint force from Britain and Belize, under the command of Captain John Moss, battled the pro-Spanish contingent for 2-1/2 hours. Ravaged by sickness and surprised by Moss's determination to confront them at sea rather on land, the invaders set sail back home, inflicting nary a casualty to the Brit-Belize forces.
Belize celebrates this national holiday with the crowning of Miss San Pedro on Ambergris Caye, a tug-of-war contest, a children's bicycle race, fishing tournament and, of course, a bounty of food and drinks. Meanwhile, a flotilla sails to St. George's Caye itself for the Annual Battle of St. George's Caye regatta. Waving of flags, beach parties, music and barbecues abound at the caye.
Barely before the revelers can recover from the merrymaking, it is Independence Day, September 21, another national holiday. Partly as a result of the Battle of St. George's Caye, the British had colonized Belize by 1862. It was not until 1981 that Belize finally attained its own sovereignty, after extended years of negotiating with Britain and the perseverance of great patriots like George Price and Philip Goldson.
Similar to the St. George's Day events, Independence Day spirits forth much music, dancing, children's talent shows, as well as flag-waving parades and marches.
Independence Day marks one of the most important cultural events in the country, if not only for the sense of union and togetherness it invokes among the most multi-ethnic country in Central America.
So, next time you plan to visit Belize, think about the off-season, perhaps September.
Sources:
http://www.cahalpech.com/blog/5-ways-belizeans-celebrate-independence-day
http://www.islandexpeditions.com/belize-vacations-blog/belize-independence-day-independent-strong-and-free-belize-fi-all-ah-we