When traveling to any country for the first time, there are customs, nuances, gratuities and even expectations that one should bone up on before stepping into the customs line.
It not only makes the trip easier on the traveler, but tells the natives of the country that you are not just there to swagger around like the proverbial bull in a china shop. (Many tourist destinations get enough of this ilk, already—even some well-known ones, such as Charlie Sheen.)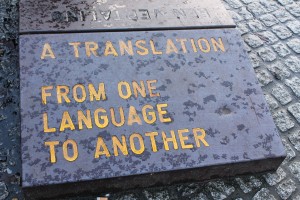 Knowing what means what in your new, though temporary, environment can not only save you some time, grief, anxiety and acrimony, it can also pave the way for transactions, processes and favors from service people or other accommodators that you may not have received without your self-induced research on the new country.
By nature, people respect and often admire someone who has done his or her homework.
Although the official language of Belize is English, the commoner from the U.S., Canada or Great Britain may even need a short glossary to keep up with the Belizean lingo.
Right now: What this doesn't mean is "right now." It really means, "I will get to it." This is a common household phrase in Belize that betrays the slowness of the hands on the nation's clock.
Haul the door: It means shut the door, silly. This is either a remnant of the British influence when that country colonized Belize, something derived from the Kriol dialect, or something just entirely Belizean. Regardless, just think how silly you would look trying to unhinge a door and hoist it on your shoulders in response to this phrase.
You all right? When asked this, you might wonder if you look like something just happened to you—i.e., you were in a fight, your babe just dumped you, you crashed your car, you lost a loved one or you are in the throes of heat stroke. Substitute this with, "How are you?" Voila!
Good night: Again, from where this derived is something requiring a little research, but it is exactly the opposite of what it means in many other countries, a good-bye in the dark. When strolling along a road or street, stepping into a restaurant for dinner or other nightspot, this will be a common greeting from Belizeans once night falls.
He/she is vexed: This could easily be misunderstood as someone who is merely uncertain, flummoxed or bewildered to the point of consternation. However, take it to mean that someone is angry, emotionally torn or extremely agitated.
'Hardaiz': Someone who is strong-headed, hesitant to listen to instructions. You will often hear mothers refer to their disobeying child in this way.
Buck: To carry an object or person, such as a weighty bag on your shoulder or a child on your back. So, refrain from head-butting when told to do this.
'Mek' me get that: This is a part of the indigenous vernacular which otherwise can be expressed not as a command, but a request, as in, "let me get that."
There are many more expressions to learn from the Belizean dialog, but what fun would it be if we told you all of them here. As you might have guessed already, you will be at least mildly entertained learning some of these firsthand.
Just know that even if you don't appear to have done your homework, Belizeans are the last people on earth to get excited or irritated when noticing your void of insider knowledge.