Belize's bounty of fresh, succulent seafood is undoubtedly included on every visitor's must-do list, right alongside snorkeling, diving, fishing, caving or Mayan ruin touring.
Tourists' infatuation with food from the blue Carib does not swim past the attention of Belize citizens or their merchants. Three festivals revolve around the lobster; conch ceviche is as stapled into the locals' diets as much as clam chowder is to New Englanders; Creole-style snapper never gets old, no matter how many times a restaurant serves it during the week; and the Garifuna delicacy, hudut, would be nothing if not for the sea's bounty.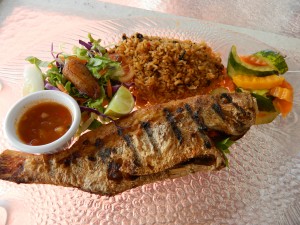 This wealth of piscatorial table fare does not, however, appear by some kind of magic. It results from a cognizance of how precious the Mesoamerican Reef and waters around it are to the country's tourist economy. Through planning, regulating and nurturing a mindset of preservation, Belize has ably protected its marine resource while sustaining extractive practices along the way.
There are constant threats, such as wide-eyed developers who covet the cayes and shores as money making luxury resorts at the expense of vital sea habitat, whether it be mangroves, coral or the ubiquitous sea grass. Offshore drilling ambitions have been parried off more than once in recent years. And, even the biggest celebrity names in the world can't bully past the cultural and environmental foundations that require a full account of impacts—most recently in the case of the Blackadore Caye development and its potential usurpation of fishing waters that support the livelihoods of local fishermen.
With a little help from its friends—in the form of NGOs (non-governmental organizations)—Belize has been able to set aside 13 protected marine areas and pass groundbreaking legislation, such as rules against trawling, on its way to preserving its precious sea resources. In fact, one of the NGOs—Oceana—played a critical role in helping to buy out two shrimp trawlers whose practices were destroying the sea floor habitat and incidentally catching protected species, such as sea turtles.
The designation of the Mesoamerican Reef as a World Heritage Site by UNESCO in 1996 proved pivotal to turning the international microscope toward Belize's aquaculture and Caribbean ecosystems. However, much work and many challenges lie ahead. Education will prove crucial to fostering the environmental vanguards of the future—Belize's children. Again, with a friendly assist from NGOs and the private sector, classrooms across the country currently host speakers and presentations to spread the word about protection of the country's most valuable resource, the sea.
With continued investment of time, money and education, it is hoped that the Caribbean Sea's future is secured so that all visitors and residents—whether eyeballing it from beneath its surface or above its surface at the dinner table—will enjoy, appreciate and help preserve it for generations ahead.