In 1983 Alan Rabinowitz needed a project to complete his doctoral studies at the University of Tennessee. His ecology professor pointed to jaguar population declines in Belize, and before he could nod, the 30-year-old zoologist found himself living in an old logging camp among indigenous people of a country only two years into its independence. He began training a few Mayans in his camp on how to trap the spotted panther and use tranquilizer guns on it.  They then began coursing the southern Belize jungle to count and track every adult jaguar they could find.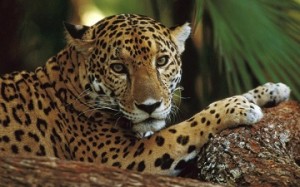 Mostly due to the young zoologist's research and his collaborations in Belize, the jaguar rebounded to a sustainable population in an expanse formally known now as the Cockscomb Wildlife Preserve. Most just call it the "Jaguar Preserve," home to about 200 jaguars today. Don't count on seeing one of them, though. You have better chances of being struck by lightning. A visitor to the 150-square-mile safe haven for wildlife is more likely to see the other beneficiaries of Rabinowitz's work—none the least being howler monkeys, tapirs (aka mountain cows), red-eye tree frogs, agouti, jaguarundi, margay and more than 300 bird species, including the macaw, great curossow and keel-billed toucan.
Like the stealthy jaguar, some of Belize's most fascinating jewels are not to be found from a dive boat—though there are plenty of jaw-droppers to be seen beneath the blue Caribbean. They are to be unveiled from beneath the jungle canopy. Many of the most intriguing Mayan ruins and their roles in Mayan history are still buried beneath three-thousand years of jungle sediment and decomposition—Caracol, Lamanai and La Milpa to name just a few. The significance of these sites to the evolution of the Mayan civilization is still being determined as more artifacts and temples are unearthed.
Far more invisible than even the jaguar or buried ruins are the subterranean diver's haven for discovery—hundreds and hundreds of miles of caves. Chiquibul, west of the Jaguar Preserve, is the longest cave system in Central America. Cebeda and the Petroglyph Caves are two of the largest caverns in Central America. Besides fossils that tell of the ancient Belize, there are many Mayan artifacts to yet be found in these limestone-forged tunnels, most of which are still unmapped.
Inside the magnificent, azure, island-bedizened envelope that greatly defines Belize is a world behind the snorkeler's and diver's back, one that beckons the aesthetic, the historian and the explorer in us all.
I was first a visitor to the Cockscomb Preserve in 2003. I had just read Rabinowitz's book about creating the sanctuary—Jaguar: One Man's Struggle to Establish the World's First Jaguar Preserve. His tales of forty-minute snakes (the deadly fer-de-lance, aka Tommy Goff), snarling, recalcitrant jaguars, pesky scorpions and the jungle's understory of incredible tenacity—undoubtedly leaving its brand on all living things in Belize—made me a frequent visitor to Cockscomb's network of trails during my temporary Belizean residence that year. When I stood beside the nearly chest-high cages—the actual traps Rabinowitz and crew had set—I felt like I was stepping into his book, inhaling the aroma of gibnut roasting over a fire in camp, and traveling in time to a space that only an obeahman or shaman could conjure.
So, when you come to visit or live in Belize, don't let the warm, clear, wondrous and bountiful sea completely take you prisoner. Turn around. Ride the wind earthward. See what lies secretly under the deep green canopy that appears from a jet window as only a tiny emerald snuggled up to an endless sea of blue.
Sources:
Jaguar: One Man's Struggle to Establish the World's First Jaguar Preserve, by Alan Rabinowitz
www.belizeaudubon.org/protected_areas/cockscomb-basin-wildlife-sanctuary.html
www.discoveringbelize.com/do_mayan_archeology.php
http://www.discoveringbelize.com/do_caving.php