Sometimes the visitors to Belize precede the country itself. How many times have you said to someone that you are going to visit or live in Belize and they respond, "Where?" Or they draw a vague reference. "Is that somewhere in Central or South America?" If the person is up in years, or a former Jeopardy champion, you might hear, "Are you talking about what was British Honduras?"
No matter. Belize's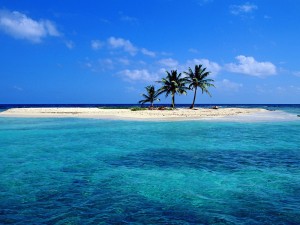 anonymity is usually not an issue to the likes of a Tiger Woods, Francis Ford Copola or Jerry Jeff Walker (does "Mr. Bojangles" resonate?), who all either kick back or do business in the country barely the size of Vermont with half its population.
There is rumor that Mr. Woods, during his stays at Cayo Espanto, occasionally disembarks from his yacht onto a nearby caye called Chapel, where he golfs on a course so integrated with the Caribbean's natural elements there was hardly room to build an airstrip or clubhouse after the 18th hole was punched.
It is fact, however, that Bill and Melinda Gates have played nine holes on the caye that is said to have gotten its name from the dead buried there by the Spanish during the 1798 Battle of St. George's Caye. (If you get the impression there are as many cayes off the shores of Belize as there are Microsoft employees, you are not too far off the mark.)
Jerry Jeff—only a household name for those Baby Boomers who followed the folksy side of rock in the 1960s or early '70s—aestivates near San Pedro on the most popular caye in the country, Ambergris. Each year he holds a Camp Belize music fest and plays two concerts at Sand Pedro's popular Fido's. He has even recorded some of his CD's from a studio in San Pedro Town.
The genius behind "The Godfather" and "Apocalypse Now" owns two resorts in Belize, one near Placencia and another farther inland in the Cayo District, near some of the most famous Mayan ruins.
But star tracking is not as popular as horseshoes or dominoes in Belize. Heck, if you mention the name "Tiger" to a native Mayan 50 miles inside the country, you are likely to make he or she a little nervous that a red tiger (Belize's cougar) is milling around their milpa. A golf ball doesn't look too different than some of the fruit that plummets from the limbs of the lush jungle flora, and most certainly not as recognizable.
The country's laid-back manner—which for some reason is more renowned than the country's name—is why most of the aforementioned celebs and others like them hang in Belize. No paparazzi, no agents, no hassles (unless you are Charlie Sheen).
The one thing that visitors, expats or investors in Belize do have in common with stars who crack a lobster or a wooden tee here is the fact that the country is so indifferent to who or what you are. And it hardly cares if you never heard of it until you stepped off the plane.
Sources:
http://www.golfdigest.com/golf-courses/golf-travel/2013-04/travel-secrets-belize
http://www.jerryjeff.com/campbelize/