While neighboring countries were being torn apart by civil wars, a former British colony was growing its arms and legs as a newborn nation. A man named George Price, known by native Belizeans as the nation's father, led the independence campaign and set the stage for a totally self-governed Belize.
Each year, September serves a seminal kickoff to a slate of auspicious observations and celebrations the rest of the year, from the Battle of St. George's Caye, to events named for the man who blazed the trail to nationhood, to Independence Day on September 21, and Settlement Day for the Garifuna later in November, not to mention Christmas.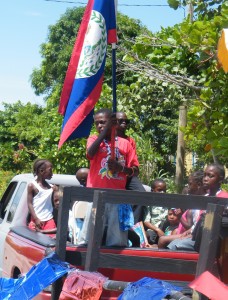 It is a season to recognize and fete a heritage of inclusion, one that boasts the greatest multi-ethnic citizenry in Central America. It is equally a time to celebrate what is now 34 years of a nation at relative peace with other nations and, for the most part, with its environment.
Like an infant, however, it is not without its own growing pains, such as inner-city crime that trickles out to smaller populations and tests the government's mettle to contain what at times can seem contagious. The conflict between development and preservation makes annual visitations, as do the cries for more jobs and industry.
But, Belize is walking, testing its new limbs, muscles and appetite, while guarding its reputation as a safe harbor for not only those who fled their countries in the 1980s and '90s because of civil conflicts, but for a new entrepreneur-based diaspora representing nations from around the world and filling many of the gaps in services, expertise and accommodations that did not exist 34 years prior.
With each stride the country makes, the footsteps of ex-pats, the indigenous, the refugees, the oppressed and the ambitious can be heard on the ground and in the streets.
All Belizeans will welcome another season of celebrations that mark the country's history, its people and its aspirations. Watch for more about the foundations for these celebrations as well as their calendars of events in coming Mayfair Trust blogs. Better yet, join us in the celebrations and activities. Participate in the growth of a nation, one that is blessed with a natural and demographic beauty not easily found in other worlds.
Sources
http://www.absolutebelize.com/abs-guide/fiesta/belize-independence
http://thingstodo.viator.com/belize/belize-independence-day-celebrations