Have you ever heard of a drupe that droops and then drops? Whether you have or haven't, you most certainly have eaten one. Commonly referred to as the coconut, this versatile product of the palm tree will probably forever continue to be mistaken as a product of plants that produce nuts.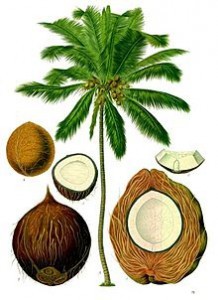 A native food of Belize and other Mesoamerican countries, it has been called a coconut since the 16th century when the invading aliens from Spain and Portugal started assigning their own names to everything they encountered in the sub-tropics. In this instance, they attached the Spanish word "coco" to what resembled a nut (coco means grin, like a monkey face, because of the three indentations at the top of the scruffy endocarp, the third and final layer of the drupe).
Drupe, by definition, means a fruit that is enclosed by three layers. In the case of the coconut, its three layers keep it waterproof and very buoyant, thus lending itself to spreading and germinating across the tropics by sea. Its migratory nature has led to feeding millions of people, our best and worst, worldwide for countless generations.
Its modern reputation has gained mythic proportions in urban areas of the U.S. as a miracle food that can fend off cancer, atherosclerosis, blood clotting and slow the aging process. Of course, when any food product in America possesses these qualities, the sticker shock when buying it is enough to cause premature aging. So, if you can justify the price, get it. It indeed contains many nutrients beneficial to your health.
Add its relatively high content of minerals such as copper, calcium, iron, manganese, magnesium and zinc, not to mention a host of B-complex vitamins and potassium, and it becomes even more fetching, despite its price tag outside of its native countries.
Fortunately, if you hang in Belize, you can practically get this super-food for free, if you don't mind having to bust through three layers in order to find the protein-packed jewel.
Because of its prevalence in Belizean cuisine, it is a wonder there is not a national Coconut Day in Belize or at least a Coconut Festival, rivalling the country's Lobster Fests. One only needs to look at the ways a coconut can be sliced, so to speak, in order to get an idea of its nutritional versatility.
The Garifuna and Creole know as well as anyone the many ways coconut can be used in Belizean cuisine. Since landing in Honduras and then Belize in the 19th century, the Garifuna have witnessed the nutritional values of the coconut and its water long before the latter was processed into a $6, eight-ounce can in an American grocery store.
But, as all native Belizeans know, this is not an easy nut to crack (especially for those with carpal tunnel syndrome). Two machete-induced splits, a tussling separation of meat from the endocarp and a wrist-straining scraping of the meat over a traditional grater that resembles a washboard are the prerequisites to the delicious consumption of this drupe.
Besides eating the meat right from the shell, there are many ways to reap the robust flavor of this fruit in traditional recipes:
Rice—Whether by steamer or in a pot, the addition of a cup or more of coconut milk (produced from mixing the water with the grated meat and drawing the liquid from it) gives the rice an almost sweet and very milky, nutty flavor. Most dining establishments in Belize serve coconut rice.
Breads—Whether it is Creole bread or what is known as Johnny cake by natives of Belize, the coconut brings a heavier texture and most definitely heavier nutrients to what would otherwise be a common bread.
Cooking oil—After being maligned for many years as high in saturated fats, the coconut has been gaining popularity as a cooking oil in recent years. This is because of its rich composition of essential vitamins and minerals essential to increased energy and better health in humans. And, the fact of the matter is that though high in saturated fat, the type of fat is actually a lauric acid, which increases what your doctor calls the "good" HDL cholesterol levels of the blood. This high-density lipoprotein is what helps to prevent vessel blockage or atherosclerosis. The coconut oil not only contributes these proteins, but more noticeably, contributes a unique, milky flavor to rice or other foods just as the coconut milk does. So robust in flavor is the oil that it requires only a few dollops in a pan of rice to titillate the taste buds.
Water—Body builders, endurance athletes and the common health nut are three of the main reasons coconut water is such a rage in the states and elsewhere. This is mainly due to its composition of simple sugars—as in natural and unprocessed—as well as electrolytes, minerals and a mess of other scientifically named compounds and enzymes that result in aiding digestion as well as metabolism.
In all, a medium-size coconut carrying 400 grams of edible meat and some 30-150 milliliters of water provides nearly all the daily-required essential minerals, vitamins, and energy to maintain an average-sized individual.
Most importantly, this drupe never stops delivering. It produces year-round as long as it is in a humid, sandy environment near the sea. One can enjoy well over a hundred coconuts a year from only one tree. Just don't fall asleep or loiter too long beneath the tree. The drupes drop as silently as a frigate bird but with a force that can maim if not kill when it hits the cranium.
Sources:
http://www.ncbi.nlm.nih.gov/pubmed/22434355
https://lup.lub.lu.se/search/publication/5421753
http://www.nutrition-and-you.com/coconut.html