Though many cannot, understandably, get their eyes or hind-ends off the great blue Caribbean Sea when in Belize, there is a much less publicized yet well known aquatic endeavor that exposes the other side of Belize—its lush subtropical rainforests and mysterious, cavernous streams.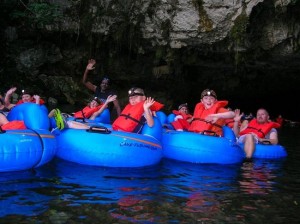 Cave tubing is an easily accessible activity that draws locals, tourists staying on the coast or one of the cayes, as well as hundreds of cruise ship visitors every year. It is exactly what it infers—tubing on streams in and out of caves, some with caverns as big as a cathedral. So, the claustrophobic need not be too concerned.
Whether it is Caves Branch off the wending and enchanting Hummingbird Highway, Jaguar Paw, Barton Creek or Sibun Caves Branch, a tubing adventure includes not only the ethereal feeling one gets riding the current through nature's pitch-black underbelly, but also lessons in Belize's Mayan and archaeological history, its geographical history, and the understory of its forests—along with its flora and fauna. Some of the most mysterious creatures and creepy crawlers, not the least being blind crustaceans and translucent crayfish, thrive and reproduce in these catacombs.
Some of the most concealed national treasures of Mesoamerica can be unveiled by headlamp to the tuber: skeletal remains from ancient times, stalactites and stalagmites that resemble everything from giant birds to serpents, rare aquatic and amphibian creatures, not to mention modifications made to the caves such as platforms, stairs and terraces, all carved out by the ancient Mayans thousands of years ago.
So, one gets a little bit of thrill, a little bit of history and a little bit of science, mixed with a lot of ooh's and ahh's when taking a tube through the water tunnels of Belize.
When booking a tour, be sure your trip will be safe by following these tips:
–Avoid tubing during periods of tumultuous rain showers. A safe tour guide will not lead tourists onto streams and into caves amidst a series of tropical rainstorms. The risk of being dumped from one's tube and possibly drowned in the rushing current is much higher during such times.
–Make sure your guide has backup headlamps and batteries in case there is a delay on the stream or in a cave.
–Hire guides that are licensed with Belize Tourism Board. They usually are best equipped for any emergency and have ample knowledge of not only the safety measures necessary but also for the cave's history and geology.
–Wear shoes with solid soles. Most cave tubing is preceded by a hike to either a zip line or the launching point in the stream. Sometimes these approach hikes can be 10 minutes and other times a half-hour or more. Ample footwear is required.
–Use river tubes rather than innertubes. The condition of innertubes can vary and lead to a deflation that can at best stall the entire group and at worst create a danger to the tuber. Tubes made for rivers and streams often afford more comfort with a back rest and auxiliary air chamber if the main chamber should get punctured.
–Try to avoid tubing in extremely large groups with a guide. If stuck at the back of the flotilla, it can be difficult to hear the guide's instructions or oratory about the cave, its history and its creatures.
Finally, there are more than 250 known cave-tubing destinations in Belize, and more are being uncovered as you read this. So, happy tubing!
Sources
http://www.belize.com/cave-tubing