Whether an anniversary, a much extended Valentine's Day, a honeymoon, or lovers' getaway, Belize fits the bill without racking up a bill that a stay in Paris, Rome, French Polynesia, Maui or Bali might require. To reach those proportions, a couple could stay in Belize for weeks, though Belize does have its high-end accommodations. It is up to the couple. The beauty of this neighborly, multi-cultural, environmentally diverse nation is that it offers something for the modest as well as the extravagant visitor.
F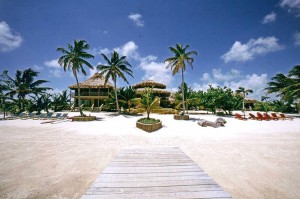 ollowing are some ideas for sweethearts pining to intimately immerse themselves in a subtropical wonderland that ranks authenticity overhype.
Hamanasi Adventure and Dive Resort. Casual elegance best describes this beach-side resort near Hopkins, a small Garifuna village located about the midpoint of the country longitudinally. Handcrafted, indigenous hardwood graces the suites and even tree houses at Hamanasi, nestled inside 21 acres of coastal forest brimming with birds, orchids and other colorful flora that lines the shore of one of the most bountiful coral seas in the world. From Hamanasi, a couple can easily trek farther inland for an up-close encounter with all that lives and breathes in the tropical rainforests or hop aboard a tour boat to explore the vast blue called the Caribbean. If choosing the resort's wedding package, these trips can either lead up to the union of hearts or serve as the virtual frosting on the cake. No matter the endeavor, Hamanasi promotes natural, sustainable eco-tourism.
Southwater Caye. This sandy, tree-lined, resort-hosting caye, with nothing but the warm, blue Caribbean enveloping its inviting shores, is made for intimacy. Several cayes beyond the main one offer yet more intimate adventure, sometimes so intimate the couple is the only ones on the caye. This and neighboring cayes are popular among Belize dignitaries as well as the occasional celebrity. Despite its popularity, it is a big enough caye for a couple to hide from the crowd.
San Ignacio. If a couple simply wishes to locate near most of the major Mayan ruins in Mesoamerica, dine in quaint eateries of multiple cuisines, and hob-knob among farmers, their horse-drawn produce carts and the indigenous Mestizo, Mayan and Spanish peoples, this small but culturally robust village is the place to stay. It is but a hop and skip from Guatemala and serves as a gateway to the granddaddy of ruins, Tikal, not to mention towns such as Flores where natives barter with tourists over their beautiful handmade crafts and apparel. On the Belize side, the historically significant ruins of Caracol are not far away.
St. George's Caye Resort. A getaway in all senses of the word, this little inn on a historic caye offers a full-service spa, marina, outdoor pool, and restaurant. The rooms offer mini-bars for refreshers after a couple's swim on the private beach. Sweethearts will never be bored with various watersports, horseback rides, hikes, and helicopter ride available. Known for the Battle of St. George's Caye, a campaign that won independence from Spain in 1798 and now recognized as a holiday in Belize, this caye is also home to the Baron Bliss Lighthouse and the Museum of Belize. Though activities abound on St. George's, the solitude of this jewel on the sea and Belize's consistently welcoming climate make for great slumming in a hammock with a good book or beverage in hand.
Belizean Shores Resort. Located on one of Belize's most popular destinations, Ambergris Caye, this resort offers the couple a decadent way to spend some time together. A swim-up bar alongside the outdoor pool and a restaurant with a 360-degree view along the sea are merely two of the amenities just made for couples wanting to kick back with each other. Lounging on the beach, full-service kitchens in the suites, high-speed internet, and cable TV can fill a couple's time between snorkeling, diving, kayaking, fishing, volleyball, tennis or shopping in San Pedro.
These are just a few examples of places for lovers in Belize. Glover's Atoll Resort, the Turneffe Island Resort, and Francis Ford Coppola's Blancaneaux Lodge in the Mountain Pine Ridge Forest Reserve are among the dozens of other haunts made for two. A Touropia website rates its top ten Belize beach resorts for more ideas on where to cozy up in Belize.
Sources:
http://www.touropia.com/belize-beach-resorts
http://www.belizeislandparadise.com/