Belize revolves around tourism. It is the mainstay of the economy, including its job force. Many first-time visitors to Belize have browsed through the guidebooks and enter the country with a cursory knowledge of where to go initially, how to get around and what kinds of recreation or activity are at hand.
Whether touring Mayan ruins, snorkeling around the hundreds of cayes, diving, fishing, or sperlunking and hiking the inland jungles, a tour guide is often the first recourse. If a first-timer, be aware that the moniker, "tour guide," applies to many faces and personalities you will meet while out and about on the beaches and streets of Belize's many friendly villages.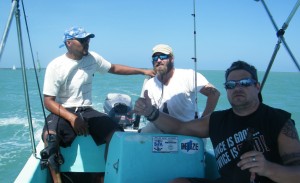 Caveat emptor applies in this case. The buyer of tour or guide services should take their time when looking for such services; after all, Belize is all about time. No need to jump into anything right away–exception being the warm, blue, inviting sea.
Here are some tips on deciding how to broach the guide dilemma once hitting the ground, whether you are inland or on the coast of Belize.
1) If you gained a recommendation of a tour operation or guide from a friend who has toured Belize before, and you are copacetic with the fee for that operation's or guide's services, go for it. A tour operation usually costs more than an independent tour guide, the latter especially being germane to the aforementioned "buyer beware" rule.
2) If you are a student, a thrifty sort or just like to do things on your own but need a little help, kick around your resort or hotel a couple days, check out the social landscape, talk to some tourists as well as native Belizean shop, restaurant or resort owners. The topic of tour guides will come up in your chats. If you are referred to an individual by one of the merchants, take some time to talk to that person. Find out how long the person has been guiding, how long ago he or she was licensed and which area or subject matter is the guide's specialty. If the self-proclaimed guide claims, "everything," when asked this question, proceed with healthy circumspect. Bandy the guide's name about with villagers or others you meet to see if someone is familiar with that person. Again, there is plenty of time to shop around in Belize. It is the glory of such a small country with so many diverse ecosystems; it only takes a day or two to explore from one disparate environment to the next. Also, keep in mind that some tour guides who work for tour companies also freelance and that rather colorful nicknames are given many persons and guides in Belize. Don't let the nickname rule your decision.
3) Measure the enthusiasm, intensity and breadth of subject matter discussed by your prospective guide, as well as any allusions to former clients the guide may cite. This will give you an idea if the guide is truly experienced, well rounded and able to show his clients a good time. Some guides can be overly serious and perhaps too intense, even in Belize. Beware the desperate disposition.
4) When checking the reputation or street cred of a particular guide, maintain a jaundiced eye on the internet, though much of its information is indeed accurate and truthful. Bottom line, it is usually better to speak firsthand to people on the ground.
5) When out on your first tour with a guide, don't be bashful about quizzing the guide regarding safety and comfort. Even a greenhorn guide will usually retreat and get what the tourist may see as needed in these regards in order to keep the customer reassured, happy and comfy. One glaring example would be having enough life preservers for everyone, especially the children. If they do not, then retreat and see if you can find a better equipped guide.
6) A tourist wants to practice responsible tourism in most cases. You will see the infrequent exception if you hang in Belize long enough. If the tourist is of the responsible, earth-friendly creed, query the guide about the why and when of any practices which appear to be less than friendly to the environment. Handling sealife in a manner detrimental to the species, trampling over coral beds, littering, uprooting or obliterating habitat are all worthy of a tourist's concerns. Contact the Belize Tourism Board if you have any complaints or concerns in these regards.
Enjoy the experience of looking for a guide. You will meet some very delightful and genuinely accommodating Belizeans.
Sources:
www.belizeguide.org
www.belizeadventure.ca