As often as not, a quandary immediately unfolds when the word "Belize" is bandied in mixed company, over a latte, a tea, beer or barbecue, especially in the hustling, bustling, workaday world of the United States.
First, there is the location. Tucked between the tourist-trammelled Yucatan Peninsula to the north, the lush and culturally rich Guatemala to the west and south, and nothing but the warm, blue Caribbean Sea to its east, Belize almost naturally maintains a low profile, with the exception of punta rock.
Following are some myth and mystery busters about Belize.
A tale of t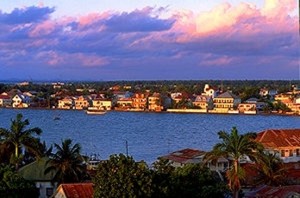 wo countries: More native Belizeans live in the United States than in Belize, mostly in the urban hubs of Los Angeles, New York and Chicago. Despite its modest size of 8,867 square miles (22,700 square kilometers), it is never bursting at the seams. There is plenty of room to roam.
Not the average Central American country: Belize's location ultimately lends to this conundrum for the geo-naïve crowd: "Did you have to learn Spanish before going there?" No matter how many times people may ask when you say you either live in or visited Belize, the official language remains English.
Come as you are: Though public health nurses may recommend malaria medicine when visiting Belize over a period of a month or more, the disease is essentially on its way out. Belize has experienced an 85 percent decline in reported malaria cases since 2000. For example, in 2010 there were only 150 cases reported and nearly all were contracted in the western and southern districts near the Guatemalan border. Dengue fever from mosquitoes is more of a concern than malaria, but there were barely over a dozen cases reported in 2013.
Big blows in small portions: The most likely and most feared natural disaster in Belize is definitely a hurricane. Since 1930, however, there have been 16 hurricanes (roughly one every 5 years) and only eight that were considered major (just under one every 10 years). Catastrophic events occur once every 30 years on average. As for tropical storms in the same period, 17 have made landfall in the country. The incidence of hurricanes and tropical storms is greatest during September and October. Because warnings are issued several days in advance, they are easy to avoid by evacuation. The last catastrophic event was 2001 when Hurricane Iris hit southern Belize.
The developing country stigma: Though there are only three main highways of only two lanes, you should have seen the country when they were only trails. All joking aside, Belize is not one of those countries where visitors must come with pockets full of batteries. It is robust with ATMs, auto rentals, medical clinics—both private and public—as well as reliable internet, cable TV to a fault and, yes, even soy milk on most stores' shelves. By the way, Belize is not a vegetarian's anathema. Most of the native cuisine is based on the herbivore's staples: beans, rice, plantain and other fruits, not to mention root veggies like cassava. Sushi is even served in a few locations with nothing but the freshest, native Caribbean Sea dwellers.
Oh yeah, the punta: Born of the traditional drum beats and dances dating back to the time Garifuna arrived to the Caribbean more than 200 years ago, punta rock as a genre of modern music in Belize hit the scene in 1978, augmented by synthesizers, electric guitars and Creole lyricism. Provocative body gyrations, some in slow-mo and some in rapid fire, accompany the rhythm on dance floor or sandy beaches. Can an outsider ever learn to really punta? Probably not. But, observer is a role almost as entertaining as participator.
Sources
http://edition.channel5belize.com/archives/87624
http://www.belize.com/belize-travel-advice
http://www.westminster.edu/staff/athrock/BELIZE/Facts.html
http://globalhealthsciences.ucsf.edu
http://belizeadventure.com/tag/belize-hurricane-season