If Polly wants a cracker, like any good parrot would, all the parrotfish wants is a healthy reef.
A big reason that healthy reefs in Belize stay healthy is because the parrotfish would have it no other way. Named for their beak-like mouth and nose, parrotfish come in 60 different varieties, but all of these flamboyantly colored fish have one major trait in common: They can't keep their parrot-like noses out of coral-suffocating algae that grows on all reefs, including the Mesoamerican, second in size only to the Great Barrier Reef off of Australia.
Th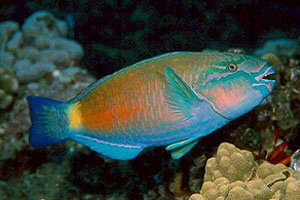 e parrotfish is the janitor of the coral reef, but only works days. At night it puts on pajamas made of a transparent mucous, secreted from an organ on its head, and finds a bed in the sand or a crevice. Biologists believe the body wrap masks the parrotfish's scent to protect it from evening prowlers that would otherwise feast on it during twilight.
Caribbean reefs generate more than $3 billion annually from tourism and fisheries, according to the International Union for Conservation of Nature (IUCN). In Belize, tourists who dive and snorkel will usually encounter scads of these eye-catching vanguards of the reef while dipping into the warm Carib around such popular destinations as the Ho Chan Marine Reserve near Ambergris Caye, Sapodilla Cayes, Southwater Caye and Glover's Reef, a handful of the 13 protected marine areas in Belize that are helping to keep the parrotfish on duty as outside forces threaten the parrotfish's pristine aquatic garden. These threats include overfishing, atmospheric CO2 that is raising the Caribbean's acidity, and loss of other worthy custodians of the coral like urchins and sea cucumbers. It is estimated that a quarter of marine life in the world emanates from coral reefs.
Not only does the parrotfish eat the coral's nemesis, algae, it digests it in a way that creates the white sand found near reefs and on the Caribbean surf. With molar-like teeth, it pulverizes the algae film that grows on corals and basically poops it out as fine, white, coral sand. Its dining habit produces tons of sand each year.
This coral keeper is not without a sense of humor, either. For years scientists were flummoxed while trying to ascertain how many species of parrotfish exist in the seas. At one point, it was believed in excess of 300 different types of parrotfish existed. Finally, it was discovered that parrotfish change their color patterns in accordance to age and sex. They even perform their own sex-change operations. When a harem of females loses its male, one of the females will change its gender to a male in order to keep the rest of the harem producing their progeny.
The keys to keeping the parrotfish and reefs healthy, according to the IUCN, are to protect parrotfish from overfishing via strict enforcement of fishing regulations, monitoring of these restrictions while working to minimize the regulatory effects on fishing livelihoods, listing it as a protected species, and providing public education on the importance of parrotfish protection.
The Belize government and non-governmental organizations, teaming with private enterprises such as dive shops and tour operators, have formed alliances to educate and prevent practices that decimate coral, such as sloppy anchoring on coral beds by yachts, incidental catches of parrotfish by commercial fishers and creating a coalition that explores creation of new marine sanctuaries where parrotfish and the coral reef can flourish free of threat.
Sources:
http://www.montereybayaquarium.org/animal-guide/fishes/parrotfish
http://animals.naturalgeographic.com/animals/fish/parrot-fish
http://www.fisheries.gov.bz