Thundershock, Sugar, Slipper, Judgewig and Bellyful. These could easily be mistaken as endearing nicknames that native Belizeans—who love aliases—bestow upon admired friends and peers. However, they are names ascribed to something that has been raining from trees over the past several weeks in Belize—the succulent mango.
Though the growing season varies a bit from year to year, it often falls during May and June. After watching the yellow blossoms popping out in January and February, the wait for mangoes to reach their sweetest and ripest stage can be as tormenting as waiting for a post to arrive in Belize.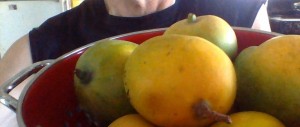 Green mangoes are often just as relished as the ripe version and unlike the ripe fruit, they aren't prone to getting stuck between the teeth. Seasoned or used in its tart stage for salads, salsas, pies and ceviche, the green mangoes rob the joy of a sweet-tooth waiting for the fruit to ripen, with a noticeable assist from the children who conduct mango raids as soon as the greenies start drooping low on trees in various yards or orchards.
Belize grows 20 varieties of the mango. Some of the most popular ones, besides the aforementioned, include Julie, apple, blue, common, turpentine, hairy and the less descriptive Number 11. The flavor, size, texture and shape vary from one variety to the other, making for mango tastings and different culinary applications when mixing the mango with other foods. Because of the mini-climates of Belize's coast and hills, the mango grows better along the coast where the buds are not as likely to burn. Fresh rains help hasten the mango's arrival.
Many street vendors are still stocked with mangoes, but the season is waning, so it is best to jump on the opportunity to try all of Belize's varieties. Many have already reached juice-only stage as trying to eat them by hand is a dextrous endeavor requiring a quick tongue to lick the drippings off the palm, wrist and forearm.
As much as it is a pleasure for the palate, the mango is a cultural icon. Often the few homes with producing mango trees in a given village is also a social hub, where villagers of all ages come to sample and collect a clutch of mangoes. The younger ones stage lookouts, plucking and looking from the tree, while their cohorts cull the fallen fruit from the ground.
Before roads were cleared and paved, dugout canoes or cayucos (the Mayan term for the dugout canoe) could often be seen brimming with piles of mangoes for the market.
The mango then and now almost becomes Belize. It is the buzz everywhere when drooping from trees and a worthwhile product for the vendor or mercantile.
Could there possibly be any down side to the mango? Well, yes—being allergic to them.
Sources:
http://www.belizeanjourneys.com/features/mango/newsletter.html
http://www.belize.com/mango